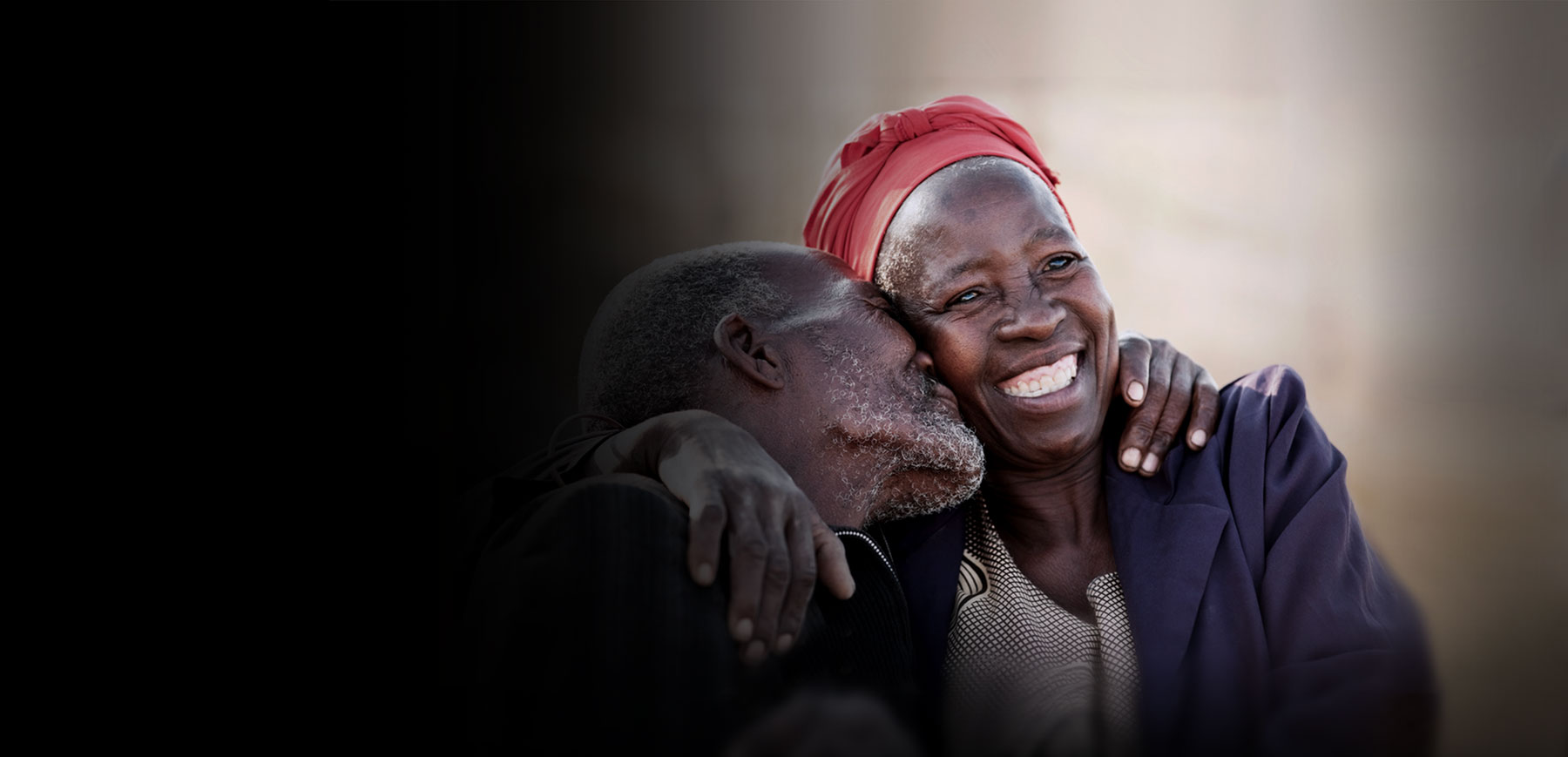 STORIES AND
TESTIMONIALS
I learnt to love and respect my partner and my kids. I learnt to protect them as I am their strength. I learnt how to be a good father and an example to my community. The course taught me to fight against GBV in my community.
"
"
- Godfrey, Elderado Village
Hearing authentic, real-life stories from the men and women whose lives have been impacted by the #NOEXCUSE on-the-ground roll-out is the greatest reward for our efforts. And it is also compelling evidence that the programme is making a significant difference. Here are some of the stories our team has had the privilege of being a part of.
"
I've changed. I'm a

better man now.

"
"
We are grateful – please

continue teaching them."
"
All the men who have done this programme have changed

– old and young."
"
No more

will I raise a hand against her.
"
TRANSCRIPT:
Brother: "I had beat her bad but now I changed from all of that and I still want to change more, no more will I raise a hand against her."
Erick: "Please repeat brother, what are you saying will never happen after this session? What do you promise because before you used to beat that women so after this session what do you promise? You went to Polsmore prison because you were beating her. What are you now saying you will never do again that led you to Polsmore?"
Brother: "I will not go to Polsmore again because of beating a woman. If she is in a wrong state of mind (shouting and stuff) I will stay calm and cool and just leave the room."
Erick: "Give him an applause. You see what we saying about, when she is angry, rather we stand up and leave and go cool off. Come back later and discuss the problem."
"
I was sentenced to

18 years in prison."
"
I now know how to deal with my
anger issues.
"
"
I've learnt

everything about GBV.

"
"
We feel honoured that we are

in partnership."
TRANSCRIPT:
"I am Christopher Serumula. I have so many good things to say about #NoExcuse against women and child abuse. I see only positivity in what Mr. Tsheko and others are doing – for me it's a really good thing. Going house to house and talking to men like me. I too was an abuser, but today the way they did it by coming to us and mentoring us, I now have a happy family. I thank them for what they did for me, I thank them for what they did for us, the way they spoke and the way they mentored us is a good thing. Thank you."
"
We can work together to

end GBV."
"
I am willing to change

my life, all thanks to

#

NoExcuse.

"
"

My husband was

abusing me."
"Greetings, my name is Mrs Khubeka, I would like to thank #NOEXCUSE, my husband was abusing me a lot so much that we were always fighting, even the kids were always frightened at home. We were fighting over a lot of things, he would even want to have sex with me by force. But ever since he joined #NOEXCUSE he has changed a lot. He is now my husband that I am able to live with, there's even joy now in the house. I am truly thankful to #NOEXCUSE."
"

He doesn't

hit me anymore.

"
"Greetings, my name is Mrs Zondo, I would like to thank #NOEXCUSE for being able to solve the problems that we were facing at home. Since my husband has started joining this group, he is now able to do household stuff because we were always fighting, even hitting me if I had a suggestion, he was not able to communicate with me, he would just ignore whatever I said. Now we are able to communicate and fix any problem. He doesn't hit me anymore, we now communicate there's laugher and it's nicer at the house now."
"
I learnt to love and respect

my partner.
"
"
This was a new start

in life.
"
"

One day they will leave us because

we are not treating them well.

"
"Greetings, greetings. My name is Thabo Disawane. I am 22 years old and I attend Thabet TVET College. I love #NoExcuse a lot. Truly speaking I saw it with me that us men we don't talk, we don't share our problems. But ever since I met with Mr. Komape and the #NoExcuse program, it has helped me a lot. I was scared that I would lose my partner, my flower, my everything. So I met up with Mr. Komape and shared my problem with him. He then gave me some ideas on how to deal with my partner when we are arguing. How to calm down when she is shouting, tips on how to handle the situation better. It has really helped me and I'd like to advice others that #NoExcuse is Number One. Whenever you have a problem, don't try to solve it alone. If it wasn't for Mr. Komape, I would be single by now. Let us try to share our problems because that way we find healing. Rather than staying angry and abusing our girlfriends, because one day they will get up and leave us because we are not treating them well. #NoExcuse has helped me a lot in my relationship. I love and support it. I'd like to tell everyone that #NoExcuse is the boss of bosses."
"

To be honest I used to

beat my wife

.

"
"Greetings, greetings, on behalf of the youth that met with the #NoExcuse people, I am one of the people that they spoke to about substance abuse and physical abuse and the effects it has on society. I am grateful to the #NoExcuse people for reasoning with us and showing us a better way of living our lives. To be honest I used to beat my wife, but now I know better. I used to drink a lot but now not as much, I used to smoke a lot also. Since they had the talk with us, because of their talk and their advice, my life is now better. I am also trying to help others too now. Thank you."
"Mr KG, I would like to take this moment to thank you for the change you made in my life. May God bless and protect you, you know I used to tell you that I used to beat up my wife but I don't anymore, we now live in peace. Thank you."
"I will not lay my hands on her

like that again

.

"
"Good Afternoon Mr. Victor, I was so touched by the #NOEXCUSE programme. It opened my eyes and made me realize there is no excuse to abuse a woman which is what I was doing to my partner for a couple of years. After the #NOEXCUSE programme, I regret ever doing that to my partner so I am making a commitment that I will not lay my hands on her like that again. Please sign me up to be part of the Champion Men so that I can help other men. Kind Regards, Elroy Botha."
"

These days

every time I get angry, I look at my

#

NoExcuse ring.

"
"Hi my name is Andrew from Tambo Village. I was introduced to the #NOEXCUSE programme 6 weeks ago by Mr. Victor Pike, a mentor.  The programme is wonderful. I was one of those men who was abusing women. I had a problem with the anger so Mr. Victor helped me a lot by telling me how to manage my anger, how to avoid a situation where I get angry and I end up beating my wife. He helped me by telling me that most of the time I must avoid an argument. There are so many ways which he has helped me avoid an argument with my woman. So as I stand here today, I am a changed man. Mr Victor gave me the #NOEXCUSE ring and bangle, so these days every time I get angry I look at them and I remember the conversation between myself and Mr Victor, and I end up not doing a bad thing which I normally do. So looking forward, I thank you very much for the campaign and #NOEXCUSE programmes – they have changed and impacted my life in a positive way. I'm looking forward to seeing more. Men are changing through this powerful programme! Thank you very much #NOEXCUSE!"
"If it was not for this group we would still be unemployed and

reckless fathers

.

"
"#NoExcuse and Mr. Temba Tembe made a difference in our lives. He organised a job for us from Red Ants where we were being evicted and relocated from Waterworks to Zenzele. 60 men from the #NoExcuse group were afforded this opportunity. It was not easy as we camped in tents without water to bath, but at least food was allocated to us. We had to stay strong for our families. It was not much of a problem as we got training from #NoExcuse and Mr. Tembe our leader. Changed men from #NoExcuse stand together, and we all were speaking of how we must be strong in order to support our families. In the camp we stayed positive, and I would see that these men really changed, as they were concerned about their families. We then were afforded an opportunity to train as TRT after they saw our efforts. We now are going to start training on Tuesday and will be given certificates upon completion, and permanent employment. I would like thank Mr. T Tembe our leader and #NoExcuse for this opportunity. If it was not for this group we would still be unemployed and reckless fathers. We are now going to be able to support our families ?. Thanks Mr. T Tembe. Thanks #NoExcuse. You are the best. #winnersneverquit #protectorsandproviders #fatheranation."
"
I
 

want to take my life so
I can have peace.
"
The below is a series of screenshots taken from one of the Whatsapp conversations between a mentor and a brother. Scroll through the conversations by clicking the navigation buttons. Numbers and profile pics have been blurred.
Stories reported by

mentors
Stories reported by

mentors
Rejection made him suicidal and turn to gangsterism.
One of the men who attended our event on 3 April, Bulelani Toni, stood and confessed how he has been trying to commit suicide because he feels rejected and unwanted since he was baby. This resulted in him turning to gangsterism. He has chosen to walk away from such life and be the man he was born to be, so he is currently being mentored by the #NoExcuse mentors.
This is a very angry young man.
Zolani  is 19, from Emalahleni. He claims that his stepfather is an abusive alcoholic who treats his siblings and his mom very badly. To him the solution seemed to be getting rid of this man or running away from home. He desperately needed help. I asked him to visit the nearest primary health care facility and to give me a shout out when he is with the social workers. I introduced myself and explained the predicament the young man was facing. They promised to assist the young man and to keep me posted. END RESULT: OVer the last year, Zolani has been in constant contact with me through through WhatsApp. His stepfather and his mom no longer live with them in the RDP house. Zolani managed to pass his grade 12 and is a first year student at the TVET.
3. Her partner made her suicidal
Killing herself was not the solution.
Makhosazana Mabizela 34, a mother of 5 daughters, had a problem with her partner which led to suicidal thoughts. I talked to her and told her that killing herself is not a solution and I managed to speak to her husband to resolve the problem. They manage went for counselling together at FARMSA and things are much better now.
4. He was abused because he was gay
He was ready to take the law into his own hands.
He was always abused because he was gay and he felt it was time for him to retaliate. He felt the community and people around him didn't care about his feels so he was tired of being a good person so he wanted to take the law into his hands. I spoke to him and showed him that there is better life waiting for him and he must not let feelings make him do things he will regret all his life. I found gay support groups and recommended some to him. I felt this would give him an opportunity to share with people who would understand him, and some will advice based on past experience. He joined a group that has a counsellor, and they welcomed him very well. Now he has a home. We are now organising a Gay Pride event which he is looking forward to. He will never be negatively impacted by what people have to say.
5. During gatherings, he would become violent.
A Student Leader who had issues with gender disparities.
Mr Onismus Moshashampe is a Student Leader who had issues with gender disparities. Usually during our gatherings, he would become violent. When I introduced him to The Six Pack programme, he responded positively and was fully engaged with the program. Currently, he is one of the pioneers of FAN on campus, and his attitude towards people has changed drastically in a positive manner.
6. From abuse to dialogue
At first he totally refused to engage with me and was very rude.
A young lady in Gauteng was in an abusive relationship and was on the verge of committing suicide. I asked her to send me a "please call me" when her partner was home. At first he totally refused to engage with me and he was very rude. I then requested his personal number. I called the following day and promptly explained my age, where I'm calling from and how worried l was about his relationship and what might come of it. Since then we discuss issues like family and we call each other at least once a week. Things are much better in the home and the couple is willing to give me a verbal testimony if need be.